Players to Watch Updated 3.14
Experts' Rankings
Coming 4.11
Kevin O'Connor
Coming 4.11
Jonathan Tjarks
Coming 4.11
All Draft Coverage Updated 3.14
How Much Do You
Want to Know?
Sort By Position
1
DEANDRE AYTON
Center
Arizona, Freshman
PTS 20.3 24.3 per 40

REB 11.5 13.8 per 40

AST 1.6 2.0 per 40

EFG% 63.0 438 FGA

STL 0.6 0.7 per 40

BLK 1.9 2.3 per 40

3PT% 36.4 33 3PA

FT% 74.2 186 FTA
A star center prospect whose body was built by the basketball gods, with a potentially elite two-way game.
Shades Of: Patrick Ewing, Karl-Anthony Towns, DeMarcus Cousins
PLUSES
Has wide shoulders and a thick frame with room to add even more muscle.
Bouncy athlete vertically, but also very fluid and agile. He has light feet like a dancer, and runs the floor like a T-800 android.
Excellent finisher around the rim using either hand. Knows how to use angles and footwork to create space on the post.
Effective shooter due to soft touch and good mechanics; his range projects to the NBA 3-point line.
Better ball handler attacking from the perimeter than he was able to show at Arizona.
Underrated passer who makes accurate outlets and kickouts to shooters and cutters. Stays under control when facing pressure or doubles.
Good rebounder due to his sheer athletic advantage.
Potentially a super-switchable defender with the length and power to defend true bigs and the lateral quickness to contain wings and guards.
Does a good job of altering shots without fouling by keeping his hands straight up and not reaching.
MINUSES
Gets caught in no-man's-land too often on defense; are his instincts poor, or does he just need more coaching?
Sometimes just flat-out misses on help defense against dribble penetration.
Intensity wanes, which has been a knock since he was young; is that because of fatigue, focus, or his mind-set?
Low block and steal rates are notable considering his elite measurables and theoretical defensive potential.
Occasionally drifts on the perimeter.
His hands have improved since high school, but he still occasionally fumbles passes.
2
MICHAEL PORTER JR.
Forward
Missouri, Freshman
PTS 7.0 22.4 per 40

REB 5.0 16.0 per 40

AST 0.5 1.6 per 40

EFG% 38.9 18 FGA

STL 0.0 0.0 per 40

BLK 0.5 1.6 per 40

3PT% 33.3 6 3PA

FT% 0.0 0 FTA
A tall, athletic forward who can drain shots from anywhere, but must hone his ball handling to reach his scoring potential.
Shades Of: Athletic Keith Van Horn, Otto Porter Jr., Harrison Barnes
PLUSES
Sweet shooting stroke with a high release and soft touch, both off the catch and off the dribble.
Good ball handler in the open floor; can take the ball coast to coast.
Effective off-ball player who moves well on cuts and knows how to get himself open for catch-and-shoot 3s.
Plays with confidence offensively; never lets mistakes get in the way of making the next play.
With solid length and quickness, he's potentially a versatile defender if his fundamentals improve.
MINUSES
Underwent back surgery for a spinal disc injury that kept him out for the majority of his freshman season.
Suffers from Andrew Wiggins syndrome: He needs to prove he can be more than an inefficient scorer.
His lack of advanced ball-handling moves prevents him from getting all the way to the rim or creating space against great defenders.
Frustrating shot selection due to his habit of settling for jumpers.
Has a good, but not great, first step off the dribble.
Lacks passing vision.
Questionable physicality. He avoids contact, gets pushed around, and doesn't grind on defense.
Not much of a rebounder, which will make it harder to play small with him.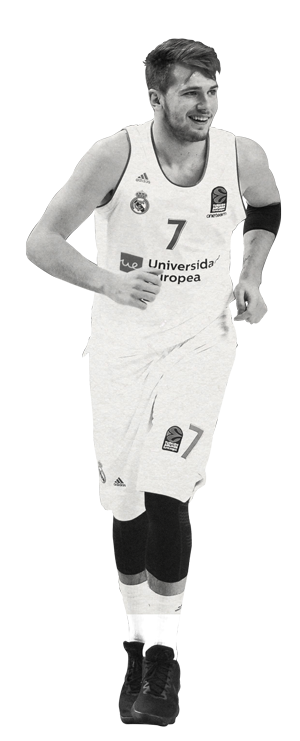 The Prospects (Outside the Tournament) You Need to Know
Luka Doncic
Danny Chau: You know the name. And hopefully by now you've gone through the YouTube archives to at least give yourself a sense of his game. Yes, all the hype is real. Doncic is a prodigy: At 19, he is already the best player on a Real Madrid team that is crushing the ACB, widely considered the second-best basketball league in the world. He is a teen who plays with the fluidity, the intensity, and the guile of a 27-year-old. There are so many ways in which he might develop as a player. For instance, it wouldn't be hard to envision a playmaking guard like Brandon Roy, but equipped with all that he'd need to survive in 2018: a confident 3-point stroke, a healthy understanding of the myriad ways to run a pick-and-roll, and the willingness and ability to play at three positions — maybe four one day if you dream big enough.
3
MOHAMED BAMBA
Center
Texas, Freshman
PTS 12.9 17.1 per 40

REB 10.4 13.8 per 40

AST 0.5 0.6 per 40

EFG% 56.8 259 FGA

STL 0.8 1.0 per 40

BLK 3.7 4.8 per 40

3PT% 28.0 50 3PA

FT% 67.8 118 FTA
Bamba's immense defensive upside is tied to his otherworldly wingspan. His potential as a perimeter threat could make him a 3-point-shooting Rudy Gobert.
Shades Of: Rudy Gobert, Jermaine O'Neal, Tyson Chandler
PLUSES
Combines length with excellent coordination, allowing him to block or alter shots with either hand all over the court.
Mobile; a potential five-position defender if he masters fundamentals.
Long strides enable him to cover a lot of ground when closing out on shooters or sprinting in transition.
An ambidextrous finisher who can catch tough passes, though he occasionally fumbles or double clutches.
Solid passer who can make basic reads.
A curious learner and thinker off the court.
MINUSES
Lacks the intensity you'd hope for in a defensive anchor.
Gets pushed around by stronger players inside the paint.
Not the quickest leaper when battling for contested rebounds; usually needs time to gather and launch to elevate.
Weak screener with poor technique, which will hinder his pick-and-roll ability until he improves.
Lacks the strength to dunk over and through defenders the way explosive NBA rim runners like DeAndre Jordan can.
Post-up skills need work; he gets moved off his spots when sealing down low.
Only a theoretical shooter. He needs to simplify his mechanics before he can be considered a threat from 3.
4
JAREN JACKSON JR.
Big
Michigan State, Freshman
PTS 11.3 20.5 per 40

REB 5.8 10.5 per 40

AST 1.2 2.1 per 40

EFG% 60.4 225 FGA

STL 0.6 1.1 per 40

BLK 3.2 5.7 per 40

3PT% 39.6 96 3PA

FT% 79.7 128 FTA
One of the youngest players in the draft is also one of the safest bets. Jackson projects as a reliable two-way big man.
Shades Of: Myles Turner, millionaire's Taj Gibson, billionaire's Amile Jefferson
PLUSES
Ambidextrous shot blocker with superb timing and closing speed.
Effective when switching ball screens onto guards and wings.
Glue-guy skills; cuts well, runs the floor hard, finishes with either hand.
Shows flashes finishing with power when he has space, though he must get stronger to finish through contact.
Spaces the floor well and shows ability to attack with straight-line drives.
Odd shooting mechanics with fling motion on a low release. It works, but he'll need to show it can translate in the NBA.
MINUSES
Inconsistent rebounder who lacks physicality boxing out; he isn't the quickest leaper from a standstill position.
His lack of mass and strength means that he doesn't deter opponents from driving the lane. Bites on too many shot fakes.
Predictable when asked to create; handle gets too loose in traffic, and he tends to drive left.
Average touch on post-ups and tough-angle layups.
5
MARVIN BAGLEY III
Big
Duke, Freshman
PTS 21.1 25.4 per 40

REB 11.5 13.8 per 40

AST 1.6 1.9 per 40

EFG% 63.0 395 FGA

STL 0.9 1.1 per 40

BLK 1.0 1.2 per 40

3PT% 37.0 54 3PA

FT% 62.0 184 FTA
A complicated prospect: He's a modern tweener who has athletic center skills but an unreliable jump shot and the body of a forward.
Shades Of: Amar'e Stoudemire, slim Zach Randolph, Michael Beasley
PLUSES
Plays his ass off.
Has the potential to be an extremely versatile perimeter defender due to lateral quickness.
Good weakside shot blocker who can fly out of nowhere to alter shots.
Relentless rebounder with the court awareness to match his quick leaping ability.
Coast-to-coast threat due to speed and open-floor ball-handling skills.
Could be a multidimensional pick-and-roll threat; has the fluidity to attack the lane, the athleticism to catch lobs, and the shooting form to one day space the floor.
Fast-twitch athlete with a lightning-quick first step and fluid body control. If his jumper develops, it will be hard to stop him from getting to the rim.
Excellent interior finisher despite left-hand dependence due to his ability to handle contact and score from awkward angles.
MINUSES
Not long or thick enough to defend the interior at an elite level, especially against larger centers like Joel Embiid or Karl-Anthony Towns.
Questionable defensive instincts; tends to be a beat late on rotations, which raises concerns about his ability to anchor a defense.
Subpar shooter with shaky mechanics. Sprays short, long, left, and right on misses. Also struggles from the line.
Currently a nonfactor shooting off the dribble. He looks uncomfortable transitioning into the shot on the move.
Predictable at-rim finisher since he almost never uses his right hand.
Sloppy ball handler and decision-maker in the half court. He's at his best in the open floor.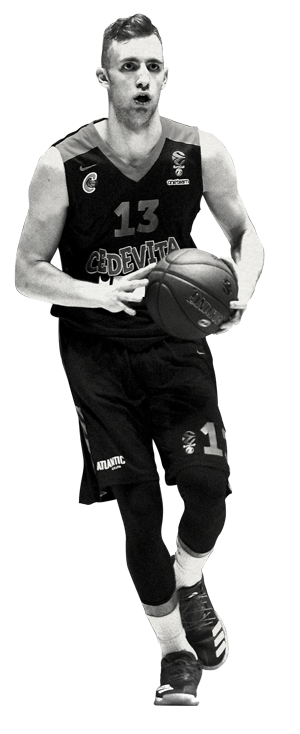 The Prospects (Outside the Tournament) You Need to Know
Dzanan Musa
Chau: It's hard to tell where Musa's legend begins. Is it when he scored 50 points in the 2016 FIBA U17 World Cup (a single-game tournament record)? Or did it begin a few months earlier, when Roy Williams recruited the Bosnian wing via Skype by giving him face time with Michael Jordan? Outside of Doncic, Musa is the hottest international commodity in the 2018 draft class. He is a born scorer, potent from every level of the court, and comfortable getting jumpers off from a standstill or on the move. He's a good athlete — more fluid than explosive, though definitely NBA-caliber — with an effective, long-striding Eurostep. He could stand to spend some hours in the weight room, but he has already shown a commitment to improving his body. Two years ago, he had an unmistakable  hunch in his back, but has gradually improved his posture. He'll need every inch of his true height (6-foot-8) to reach his potential in the NBA.
6
WENDELL CARTER JR.
Center
Duke, Freshman
PTS 13.8 20.3 per 40

REB 9.3 13.7 per 40

AST 2.1 3.0 per 40

EFG% 59.7 289 FGA

STL 0.8 1.1 per 40

BLK 2.2 3.2 per 40

3PT% 46.3 41 3PA

FT% 73.3 150 FTA
A thick-framed big man with ballerina quickness, Carter is a do-it-all big man with few notable weaknesses.
Shades Of: Al Horford, Antonio McDyess, Mo Speights
PLUSES
Has the soft hands to catch tough passes and the court awareness to quickly finish on dump-offs or in the pick-and-roll.
Not an elite athlete, but can finish lobs when he has space. Elevates quickly on layups and putbacks.
Good shooter from 3 off the catch, with smooth mechanics that should translate to the NBA line.
Versatile interior player who can post or face up from either block. Can finish with either hand, and has a plethora of moves.
Great passer for his position who makes quick reads and throws accurate dimes from all areas of the floor.
Knows exactly how to position himself on the court on cuts, screens, and rim runs.
Excellent rebounder who boxes out and tracks balls out of his area.
Effective interior defender who has the strength to neutralize post players and the length to protect the rim.
Fluid laterally, with light feet, which gives him the ability to play spot duty with quicker players on switches. He's not a liability.
MINUSES
Suffered an undisclosed foot injury in January at Duke that caused him to miss practice time.
Not an above-the-rim player, so his lack of elite athleticism puts a cap on his upside.
Has a hitch in his jumper that makes him ineffective off the dribble.
Needs to slow down mentally; most of his turnovers come from trying to do too much on the drive or as a passer.
Bites for too many pump fakes, which could get him in trouble against savvy veterans.
7
COLLIN SEXTON
Point Guard
Alabama, Freshman
PTS 19.0 25.5 per 40

REB 3.8 5.1 per 40

AST 3.5 4.8 per 40

EFG% 49.6 410 FGA

STL 0.9 1.2 per 40

BLK 0.1 0.1 per 40

3PT% 34.4 125 3PA

FT% 78.2 234 FTA
A fearless score-first point guard who needs to learn how to control his intensity.
Shades Of: Eric Bledsoe, Patrick Beverley, Marcus Banks
PLUSES
He's here to kick ass and chew bubblegum—and that attitude is contagious.
He's a potential lockdown defender against guards due to his lateral quickness, length, and effort.
Stays engaged off-ball fighting through screens; he's always a threat to intercept passes.
Shifty ball handler with a quick first step; he gets where he wants on the floor using a litany of advanced moves.
Ambidextrous and aggressive finisher at the rim. He would have better percentages in that zone if his shot selection improved.
Draws a ton of fouls and shoots well from the line.
Possesses a relaxed jumper off both the catch and dribble, with NBA range.
Showcases toughness in adverse situations. He once scored 40 points to keep Alabama in a game while playing 3-on-5.
MINUSES
Forces low-quality shots against rim protection and hoists jumpers early in the clock, rather than making plays for teammates.
Lacks pure passing skills; he forces high-risk passes or low-quality shots at a frustrating rate.
He can hone his passing ability by improving his accuracy and the velocity he puts on passes.
He'll need to prove he can play a more controlled brand of play within a system.
He's lanky, and will need to get stronger without losing quickness to maximize his defensive potential.
8
ZHAIRE SMITH
Small Forward
Texas Tech, Freshman
PTS 11.1 15.9 per 40

REB 4.6 6.6 per 40

AST 1.6 2.3 per 40

EFG% 58.8 239 FGA

STL 1.2 1.7 per 40

BLK 1.0 1.5 per 40

3PT% 41.9 31 3PA

FT% 72.3 119 FTA
A defensive wing whose explosiveness could hang with the Monstars in 'Space Jam.'
Shades Of: Danny Green, Wesley Matthews, Norman Powell
PLUSES
It looks like he's flying when he jumps.
Versatile defender with the speed to contain guards and the strength and length to handle bigger players.
Excellent reaction time moving laterally, swiping the ball away in man-to-man situations, or when helping off the weak side.
Active, effective rebounder.
Tends to make the right play as a passer, though he's no point guard.
Good finisher in the paint off straight-line drives, cuts, lobs, and putbacks.
Willing screener; Texas Tech even used him as an on-ball dive man.
MINUSES
Too undersized to be a four-position defender; he'll need to pack on a lot of muscle.
Reluctant shooter with funky mechanics. He'll need to prove he can hit NBA 3s.
Odd tendency to stop the ball and sit in a three-point stance when he should just keep it moving or attack.
Lacks ball-handling and shot-creation skills.

The Prospects (Outside the Tournament) You Need to Know
Mitchell Robinson
Jonathan Tjarks: The bizarre tale of Robinson's recruitment to Western Kentucky still has many people in the industry scratching their heads. How did one of the top recruits in the country wind up at a Conference USA school, and why did he decide to enroll for two weeks in summer school before withdrawing? No one doubts Robinson's athleticism. At 6-foot-11 and 215 pounds with a 7-foot-4 wingspan, he has prototypical size and length for a center. He can jump out of the gym and run with the fastest guards in the country. The question is his overall skill level and feel for the game, which skipping the entire season did nothing to alleviate. Robinson is one of the biggest gambles in this year's draft, but there will come a point when rolling the dice on someone with his physical tools becomes worth the risk.
9
SHAI GILGEOUS-ALEXANDER
Guard
Kentucky, Freshman
PTS 13.9 16.6 per 40

REB 3.9 4.7 per 40

AST 5.0 6.0 per 40

EFG% 51.6 342 FGA

STL 1.6 1.9 per 40

BLK 0.5 0.6 per 40

3PT% 39.6 53 3PA

FT% 81.4 145 FTA
A long, athletic combo guard who grinds defensively and flashes playmaking skills, but needs to improve his jumper.
Shades Of: Shaun Livingston, Patrick McCaw, Michael Carter-Williams
PLUSES
Plays with fire and energy.
Super-active off-ball defender who uses his long arms to get steals, cause deflections, and take away passing angles.
Excellent lateral quickness with good fundamentals, which makes him an immediately impactful on-ball defender.
Has good touch on his floater and on layups. He shoots well from the line, which suggests he can continue honing his jumper.
Slippery ball handler who gets where he wants on the floor and draws a ton of fouls.
Displays natural pick-and-roll instincts using hesitations and pace to keep defenders off balance.
MINUSES
Average athlete for a guard; doesn't get much elevation on layup attempts.
Solid playmaker, but takes too many careless risks; he must learn how to value possessions.
Awkward push shot with a low release when shooting off the catch, so he may need to tweak his mechanics.
His pull-up jumper works, but it's as aesthetically pleasing as Markelle Fultz's post-shoulder-injury. Can that translate in the NBA?
Skinny without a frame ideal for adding muscle; will he be as effective on defense against bulky guards and wings?
10
MILES BRIDGES
Forward
Michigan State, Sophomore
PTS 16.9 21.7 per 40

REB 6.9 8.9 per 40

AST 2.8 3.5 per 40

EFG% 54.1 417 FGA

STL 0.7 0.8 per 40

BLK 0.8 1.0 per 40

3PT% 36.9 176 3PA

FT% 88.3 103 FTA
A thick-framed forward who projects as a do-it-all role player but can reach another level if he develops his ball handling.
Shades Of: Derrick Coleman, Tobias Harris, Deshaun Thomas
PLUSES
Explosive and ambidextrous finishing around the basket; can hit tough, contested shots against rim protection.
Shifty attacking the lane against closeouts; likes to go right, or spin back right when going left.
Could have shot-creation potential if he tightens his handle.
Good spot-up shooter with compact mechanics. May need to extend his range to the NBA line.
Does everything smart role players do: cuts, screens, and completes simple passes.
High-energy rebounder who can be inserted at the 4 in smaller lineups.
Isn't overly long, but has the strength, motor, and fundamentals to effectively defend multiple positions.
MINUSES
Length could be problematic in terms of position; his ball handling is best suited for power forward, but he has the reach of a wing.
Rarely draws fouls due to his sloppy handle, especially when driving against a set defense or at high speed in transition.
Subpar passer who lacks vision when attacking the basket.
Can beat mismatches on the post, but lacks any advanced moves against defenders that can match his size and strength.
Defensive effort comes and goes; is it because of his offensive workload, his mind-set, or his conditioning?
11
MIKAL BRIDGES
Small Forward
Villanova, Junior
PTS 18.0 22.1 per 40

REB 5.4 6.6 per 40

AST 2.1 2.6 per 40

EFG% 62.8 411 FGA

STL 1.6 2.0 per 40

BLK 1.1 1.4 per 40

3PT% 43.3 203 3PA

FT% 85.1 114 FTA
A prototypical 3-and-D prospect who has made steady progress over his three college seasons and may have untapped upside.
Shades Of: Rodney Hood, Kent Bazemore, Tony Snell
PLUSES
Unselfish team player who keeps the ball moving and plays within himself.
Competitive, experienced defender who has the speed to contain guards and length to handle wings.
Effective catch-and-shooter with NBA range; flashes the body control necessary to develop into a shooter off screens.
Attacks with purpose as a straight-line driver; he reads the floor well and can finish at the rim with either hand or with power.
Capable of beating mismatches on the low post.
Flashes playmaking potential as a passer off the dribble. If his handle improves, he could be a pick-and-roll threat.
MINUSES
Lanky upper and lower body may put a cap on his defensive versatility -- can he defend larger forwards?
Lacks crafty ball-handling moves and is a subpar shooter off the bounce.
Has improved every year in college as a shooter, but may struggle in the NBA due to the hitch in his shot.
Doesn't consistently show a star mentality; vanishes occasionally, despite playing a central role for Villanova.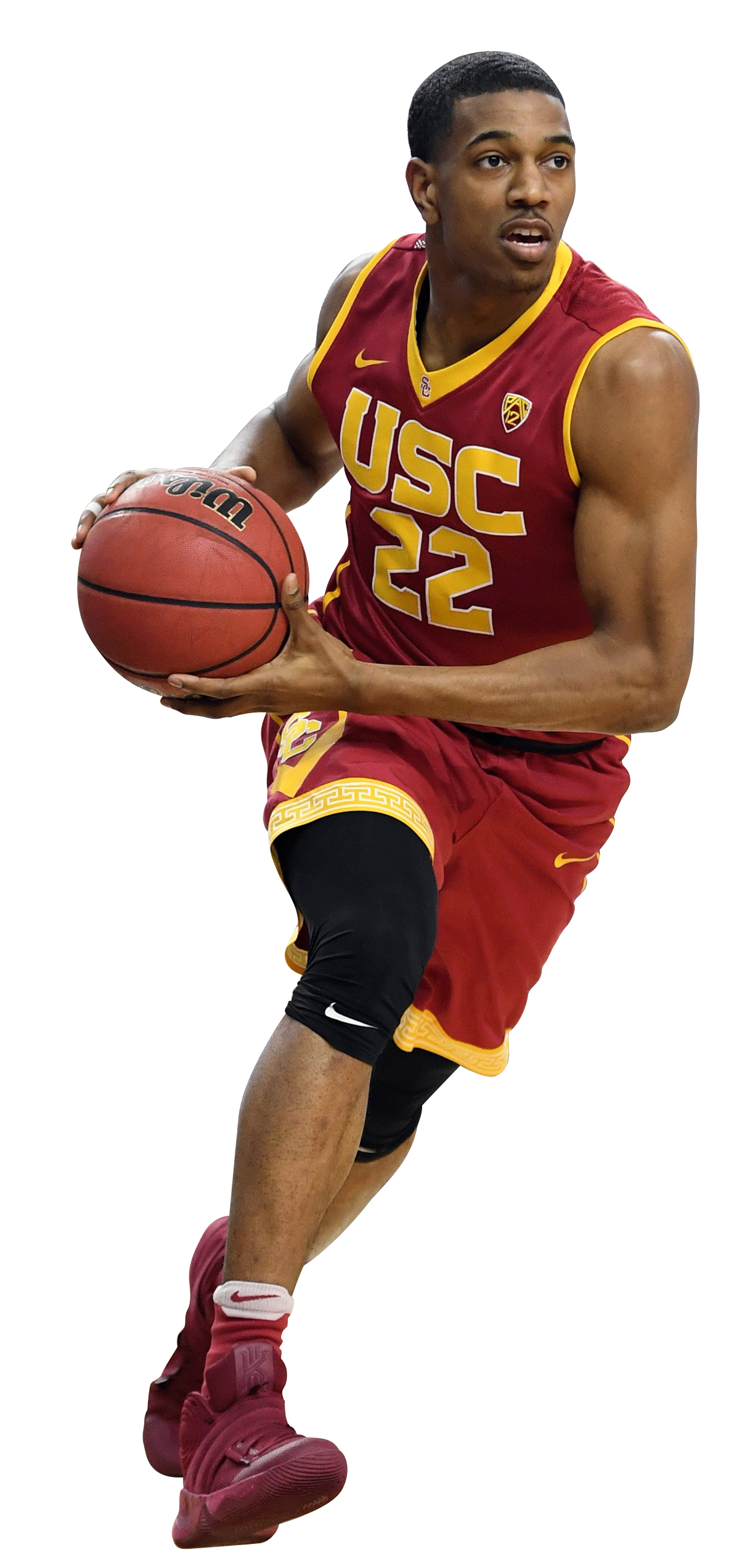 The Prospects (Outside the Tournament) You Need to Know
De'Anthony Melton
Tjarks: Melton, who was held out all season by USC, was one of the most high-profile casualties of the FBI's investigation into college basketball. He was one of the best defensive guards in the country as a freshman. At 6-foot-3 and 195 pounds with a 6-foot-8 wingspan, he has the size and athleticism to match up with either guard position at the next level. His eye-popping steal (4 percent) and block (3.9 percent) rates for a guard made him a stand out in many analytical models. Scouts wanted to see whether he could take a leap on offense in a bigger role as a sophomore, but now they, like everyone else, are left to guess. Melton shot 28.4 percent from 3 on 2.1 attempts per game as a freshman, and how he shoots in pre-draft workouts could determine whether he has maintained a place in the first round.
12
RAWLE ALKINS
Shooting Guard
Arizona, Sophomore
PTS 13.4 17.1 per 40

REB 4.9 6.1 per 40

AST 2.4 3.1 per 40

EFG% 50.7 220 FGA

STL 1.2 1.6 per 40

BLK 0.7 0.9 per 40

3PT% 36.7 90 3PA

FT% 72.4 98 FTA
An energetic, athletic, and burly wing who projects as a versatile defender and spot-up shooter.
Shades Of: Eric Bledsoe, Lance Stephenson, Aaron McKie
PLUSES
Sets a tone; he played with consistent defensive effort as a sophomore, and got better at avoiding fouls.
Thick frame, long arms, and athleticism give him potential versatility to defend guards, wings, and some forwards.
Improved shooter in spot-up situations, though his release can get quicker.
Flashes shooting potential off the dribble, though he must expand his repertoire of dribbling moves.
Good first step attacking closeouts, and a solid finisher with his right hand.
Decent passer who keeps the ball moving and makes accurate passes off the dribble.
MINUSES
Underwent surgery after fracturing a bone in his right foot in 2017.
Should be a better rebounder considering his size and athleticism.
Gets a bit wild driving to the basket; leaves his feet on too many passes and gets too loose with the ball.
Athleticism doesn't always show when attempting layups, and he too often ends up settling for floaters.
Can get better at recognizing cutting opportunities.
13
TRAE YOUNG
Point Guard
Oklahoma, Freshman
PTS 27.4 31.0 per 40

REB 3.9 4.4 per 40

AST 8.7 9.9 per 40

EFG% 51.7 599 FGA

STL 1.7 1.9 per 40

BLK 0.3 0.3 per 40

3PT% 36.2 318 3PA

FT% 86.1 266 FTA
A polarizing point guard prospect who, depending on the perspective, can look like either Steph Curry or Seth Curry.
Shades Of: Mike Bibby, Trey Burke, Aaron Brooks
PLUSES
At one point this season, he looked like the greatest freshman guard ever, with dynamic, can't-miss shooting ability from all over the floor.
Young's shooting percentages off the dribble fizzled, but he's still a player who can get a team a bucket at the end of the clock.
Smooth ball handler who uses silky crossovers, hesitations, and different speeds to keep defenders off balance and create space for his shot.
Great shooter off the catch with deep range.
Good touch on his floater.
Potentially an off-ball weapon on handoffs and screens due to his ability to hit tough jumpers by balancing himself midair.
Displays good passing vision. Can accurately deliver the ball using either hand off the dribble.
Advanced running the pick-and-roll; he understands timing and angles, and how to take advantage of his great handle.
MINUSES
Low release point on his jumper, which might explain his struggles against stiffer competition and night-and-day inconsistency this season.
Questionable shot selection has been an issue since high school. Does he have the willingness to play within a system?
Average finisher around the rim due to lack of explosiveness and length; he'll need to become far craftier to score among the trees.
Takes too many careless risks by driving or passing the ball into traffic.
Lacks the strength, length, and speed found in most of the NBA's top point guards.
Low-effort defender; combined with his physical shortcomings, he'll get feasted on if he switches onto larger players.
14
DANIEL GAFFORD
Big
Arkansas, Freshman
PTS 11.9 21.1 per 40

REB 6.2 11.0 per 40

AST 0.7 1.2 per 40

EFG% 61.8 262 FGA

STL 0.6 1.0 per 40

BLK 2.1 3.8 per 40

3PT% 0.0 0 3PA

FT% 52.2 157 FTA
An unheralded high school big who has emerged as an elite, high-energy athlete.
Shades Of: Clint Capela, Willie Cauley-Stein, JaVale McGee
PLUSES
Explosive lob threat who finishes strong against contact; draws a lot of fouls.
Excellent on-ball and off-ball screener who displays an understanding of timing and angles.
Solid decision-maker who accurately makes kickout and outlet passes.
Displays fluidity that could translate into greater pick-and-roll upside if his ball handling and touch develop.
Grinds hard and focuses on defense, plus has terrific shot-blocking instincts from the weak side and perimeter.
MINUSES
Partially tore his meniscus in high school.
Nonthreat outside the paint because of average touch and funky shot form; also needs to improve his left hand.
Poor free throw shooter.
Heavy feet defending the perimeter, which will limit his effectiveness on a switch until his lateral quickness improves.
Commits too many careless fouls biting for pump fakes, reaching, and attempting to block shots he has no chance at.
Relentless rebounder, but his lean frame and average length limit him against beefy centers.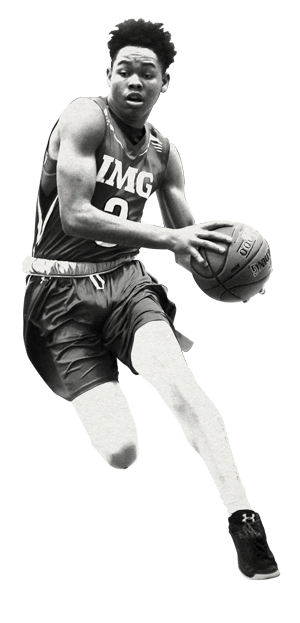 The Prospects (Outside the Tournament) You Need to Know
Anfernee Simons
Kevin O'Connor: Anfernee Simons, who turns 19 in June, was a top-15 recruit from the high school class of 2018, but reclassified to become eligible for the 2018 NBA draft. Simons is a bouncy athlete capable of finishing with ferocious dunks, but he also possesses skill and a fluid handle that allows him to create space for himself off the dribble. The question comes down to whether he can ever become an efficient scorer; Simons can flush loud dunks, but lacks touch on crafty layups, and his jumper is inconsistent. And, much like the other point guards in this class, Simons is a score-first guard who needs to prove he can orchestrate an offense. But in a draft class lacking many elite point guard prospects, Simons might be exactly the type of risk a team drafting in the middle or late first round will be willing to take.
15
KEVIN KNOX
Forward
Kentucky, Freshman
PTS 15.6 19.4 per 40

REB 5.4 6.7 per 40

AST 1.4 1.8 per 40

EFG% 51.4 405 FGA

STL 0.9 1.1 per 40

BLK 0.3 0.3 per 40

3PT% 35.4 158 3PA

FT% 76.8 116 FTA
A raw forward with the requisite athletic traits to be a go-to scorer if he puts it all together.
Shades Of: Tobias Harris, Al Harrington, Jeff Green
PLUSES
Skilled finisher around the rim; uses either hand, can yam on defenders, and has fluid body control driving around opponents.
Displays pick-and-roll scoring upside; can pull up, get to the rim, or take advantage of smaller players on a switch.
Flashes shooting skills spotting up and running off screens, though his percentages are mediocre.
Savvy scorer without the ball; shows a knack for spacing on the perimeter and when to cut. Runs the floor hard in transition.
Potentially versatile defender if he locks in — he has the athleticism, length, and lateral quickness.
MINUSES
Settles for too many midrange jumpers and floaters early in the shot clock.
Lacks passing instincts.
Average rebounder; teams will be hurting on the boards if they choose to play Knox as a 4 in smaller lineups.
Takes too many naps on defense, fails to contest shots, keeps his hands by his side, and rarely makes high-impact or timely plays.
Versatility is theoretical; he's not quick enough to contain elite guards and needs to get a lot stronger to defend interior bigs.
Measurement data and player statistics via DraftExpress and Sports-Reference.